Samsung Galaxy A01
is rated out of
5
by
98
.
SPEED Wi-Fi: 802.11 a/b/g/n, 2.4 GHz + 5.0 GHz, USB 2.0, Bluetooth v4.2
USAGE TIME up to 19.7 hours
DISPLAY 5.7'' HD+ TFT LCD, 720 x 1520
STORAGE Internal Memory 16GB Storage, 2GB RAM
CAMERA 13MP main camera, 2MP Depth camera
DIMENSIONS 5.80'' x 2.79'' x 0.33'' inches
Introducing the new A Series.
The Galaxy A01 combines smartphone essentials with the trusted reliability of Samsung. Enjoy must-have features like a 13MP dual lens camera, an edge-to-edge 5.7'' Infinity V-display, and a long-lasting battery to power it all throughout the day.

In the next step, you will have the option to bundle your Phone with one of our no-contract plans.
A Service Plan card is required for activation. Plans are not returnable or refundable. Service Plan card is required for activation. Text SAS111DL to 611611 for mobile tutorials.
---
Rated

5

out of

5
by
Anonymous
from
Love the camera's on this new phone!!
I needed a new phone since mine was from 2016. I looked around for months to find what I wanted in a phone. I needed something durable, with a good camera that would fudge the pic, and definitely a phone that would last me longer than a year. I'm so happy that I choose Samsung's new line A01.I love this phone it has everything I was looking for plus it looks good. I never have problems with dropped calls or it shutting off while I'm using it. The pictures that I have taken turn out great. The biggest plus was it is affordable and I didn't have to pay $100.00 for. I have had this phone going on 3 months now and think that I can leave an honest review about it. Thank you :)
Date published: 2020-08-15
Rated

2

out of

5
by
Anon42
from
Amazing for the price with one fatal flaw
I'm really impressed with the speed and overall navigation with the phone. It never feels like it is running with budget hardware. The camera is sub par when taking video, but overall... it's great for the price. Except for the charging and battery. Terrible battery, even worse charging. I'm not sure what kind of outdated charging circuitry they used, but it charges as slow as the very first ever smartphones. It will die even if plugged in while trying to do anything as simple as a phone call when the battery is low, and it will always be low. Charging overnight yields perhaps 50% battery life. It really kills the functionality of everything. Specs don't matter when the phone will hardly stay on.
Date published: 2020-09-24
Rated

1

out of

5
by
Dp2014
from
Waste of Money
I bought this phone specifically bc of its GSM spec. I live in the country and I actually work on cell towers for a living. So I got this phone knowing that if one Straighttalk carrier didn't work I could switch SIM cards to another carrier (T-Mobile, Verizon, etc) Now after a month of painfully slow service, I go to change my SIM card, and I'm told this phone doesn't have GSM specs but is actually CDMA. That's complete crap since Samsung website has the specs as GSM and so does the phone itself! Waste of money and waste of time. Now I have a $60 paperweight and straight talk doesn't care.
Date published: 2020-08-30
Rated

1

out of

5
by
Anonymous
from
Not Among The Best but Works
First, needs a DATA ON/OFF Button just like all other phones I have had. You know, similar to WiFi On/Off button on the drop down menu with the brightness adjustment? Second, some of the apps can be transferable to the SD Card like I have done before. Third, the Volume goes to like super quiet when you plug in an Auxiliary cord or wired headphones. And that is at MAX VOLUME!!! It needs improvements but like I said. It makes phone calls and like the basics phone camera, web browser. Texting. Lastly #4. Final thoughts. Like why connect to WiFi to continue? I obviously have Data that works just as perfect!
Date published: 2020-10-24
Rated

5

out of

5
by
Kishari Muse
from
Great phone
I've had it for a few days now. I'm still learning all of it's features but so far I love it. The cameras great it has all these different ways to get in your phone if you ever forget the password or passcode. Oh and transferring all your apps, info, pics, and numbers is super easy. I ABSOLUTELY LOVE IT!!!!
Date published: 2020-06-19
Rated

4

out of

5
by
Orlando321
from
Can't complain
Needed a phone that not only makes calls but where I'm able to play games and check email.... for the price not much I can say just that if you're looking for a phone on a tight budget, this is a top option
Date published: 2020-07-19
Rated

3

out of

5
by
Tanner
from
It's okay..
So I have had this phone for almost a month and this will be my review. There are some good and some bad. Firstly the good, for $60 it's a nice phone, haven't had a problem with the sound when listening to music and it's at the highest volume, for $60 the camera is pretty nice but I don't take hardly any photos, slot for an sd card. Now the bad, you get what you pay for as a $60 phone so don't expect $1,000 quality. When you have the volume high and you're on the phone you can't have it on speaker because you can hear them and they can't hear you. Very low memory so if you're one to have lots of apps you'll need an SD card. Keep out of reach of children because my 2-year-old niece dropped mine and the screen is already cracked so a phone case is a must but that should be with every phone. This phone has the capability of facial recognition but doesn't work that well unless you're in medium lighting which it can't be too dark or too bright cause it won't see your face. I personally gave it a 3/5 because it honestly isn't a bad phone but it's not a real good phone either. If there were things I would suggest to make the review go up is update the facial recognition. If you're looking for a first phone for your children or a phone that you don't want to spend a ton of money on and use it for just calls and texting as I do then this phone is perfectly fine for you but learn by my mistake and order yourself a phone case!
Date published: 2020-07-26
Rated

5

out of

5
by
Mariana
from
BEST VALUE!
This is Samsung's best value, bang for your buck phone ever made! I got this for my son and it's ideal. I can't believe this phone is less than $100. Way to go Samsung!
Date published: 2020-06-15
Specifications
SIZE 5.80'' x 2.79'' x 0.33'' inches
STANDBY TIME up to 11.5 days
WEIGHT 5.29 oz
BAND (FREQUENCY) 4G LTE
INCLUDED BATTERY Non-removable Li-Ion 3000 mAh battery
HEARING AID M3/T3
TALK TIME up to 19.7 hours
What's in the Box?
Includes Galaxy A01 Phone
Charger
Battery
Activation Card
Services Guide and Quick Start Guide.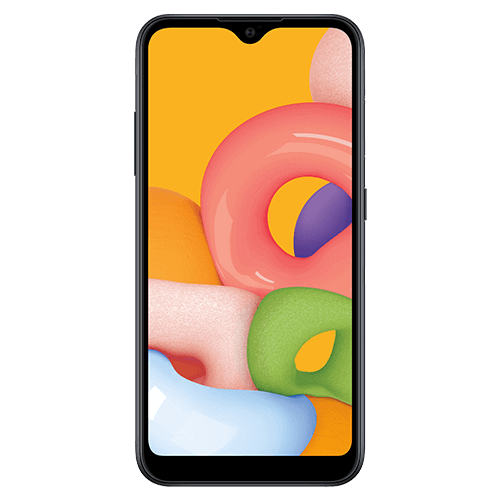 A Service Plan card is required for activation. Plans are not returnable or refundable. Service Plan card is required for activation. Text SAS111DL to 611611 for mobile tutorials.
WARNING: Reproductive Harm - www.P65Warnings.ca.gov
More features
Tap. Shoot. Share:
Capture sharp photos and shareable videos with this versatile 13MP dual camera.
Charge up:
Power through. Spend more time scrolling, texting and sharing, and less time looking for an outlet to charge. This long-lasting battery has the power to keep up with you.
Take your entertainment to the edge:
An edge-to-edge 5.7'' Infinity V-display gives you plenty of room to scroll through your feeds, stream videos and more. Colors and details look bright and bold on its HD+ screen.
Store more:
Save all the things that matter with 16GB of built-in memory. And if you need more, you can expand the storage to an incredible 512GB with a microSD card.
We are sorry but this device is not available currently!
Please add your email and we will notify you when this device can be purchased: SUBMIT
*TETHERING TO ANOTHER DEVICE IS PROHIBITED. OTHER LIMITATIONS APPLY. Please refer to your terms and conditions.