Samsung Galaxy A10e
is rated out of
5
by
435
.
SPEED 802.11 a/b/g/n, 2.4 GHz, Bluetooth v5.0
USAGE TIME up to 18.2 hours
DISPLAY Display 5.83'' HD+ 720 x 1560
STORAGE 2GB RAM - 32GB ROM
CAMERA 8MP main camera, 5MP front-facing camera
DIMENSIONS 5.8'' Screen Display
Introducing the Samsung Galaxy A10e.
With the Samsung Galaxy A10e, you get exactly what you need with the performance and reliability from a brand you can trust. Do more with a long lasting battery, keep all of your stuff with a 32GB built in memory, and experience it on a 5.83'' edge-to-edge Infinity Display. Finally, the phone you need to keep connected with friends and family and at just the right price.

In the next step, you will have the option to bundle your Phone with one of our no-contract plans.
A Service Plan card is required for activation. Plans are not returnable or refundable. Service Plan card is required for activation. Text SAS102DL to 611611 for mobile tutorials.
---
Rated

5

out of

5
by
apriicityx
from
very nice phone. :)
This is a really, really nice phone for an amazing price. I think it's a steal. It's pretty nice quality too. The camera quality is pretty decent, but it's not the best. Network speed is pretty great. I haven't tested the hot spot, but I'm sure it works just like any other. You can customize this phone in many ways, such as widgets and the style of the clock on the lock screen. It has 32GB with expandable storage, a 5.8" display, 5MP front camera, 8MP rear camera, and a pretty nice battery that lasts for up to about 24 hours, depending on how you use it.
Date published: 2020-02-28
Rated

5

out of

5
by
Tabitha Thomas
from
Great Phone
My husband and I bought this phone because he was switching providers and I needed an upgrade. We didn't know much about these phones but when we received them they were the best both of us have owned. From every feature, to screen resolution, to the camera, the audio calls the phone has been amazing. We have both had our phones about 4 months now and we are still in love. I would recommend to anyone with the understanding not all electronics are perfect and may not suit your specific needs but for my husband and I its been flawless.
Date published: 2020-03-18
Rated

4

out of

5
by
mralf92
from
Very Efficient for a Budget
I purchased this phone after my other had unfortunately broken. Being in between jobs and on top not having a lot of money already I bought this phone. It's a good phone with great features for the price. However, it's very small and lightweight to the point I didn't like it at all in the beginning and though I would break it in a heartbeat just by regular use. Also the screen is way shorter compared to other smartphones which can be both a blessing and a curse. After it's all done and said though I would definitely recommend it to anyone in a tight pinch.
Date published: 2020-02-17
Rated

3

out of

5
by
JTinAZ
from
Not all that bad for an inexpensive phone
i upgraded to a10e after using a j3. this phone is relatively fast, has decent battery life, and now runs android 10. the features are adequate and make the phone a good value. however, if you need and seek performance, keep moving as this device just does not have the guts for high performance, high-quality duty. some of the apps don't quite work right or as expected. these are annoyances. the best feature is 32gb of storage, an absolute minimum. i still spend too much time "optimizing" the phone. i am not a gamer, but please do your diligence if you plan to give this phone to a teen who will be gaming on it. some popular games are not supported on this device. the phone lacks 2 key features: wps (wifi push button capability), and wireless charging.
Date published: 2020-07-26
Rated

5

out of

5
by
Nterry
from
Good Budget Phone.
i've seen a lot of bad reviews on this phone. so let me break it down for everyone. this is a budget phone, not a flagship. this phone is for ppl who can't afford flagship phones. i personally like this galaxy a10e the battery life is great, screen quality is excellent. i can run multiple apps at the same time and it functions as it should. all the speakers are great they sound amazing. that's just my two cent
Date published: 2020-07-26
Rated

5

out of

5
by
SpryteOne
from
Great Bang for the Buck!
Bought mine yesterday at Walmart and so far I love it. Its fast, not alot of Bloatware installed. I have always loved Samsung and made the mistake a few months back of buying a Moto G7 Optimo and was not at all happy with it, so back to Samsung I went and am so glad I did!
Date published: 2019-11-30
Rated

1

out of

5
by
Vicious Venom
from
THIS PHONE SUCKS!!!
I've had nothing but problems since I bought this phone. It drops calls constantly people say when they talk to me on my voice is cutting in and out all the time it wouldn't even ring the first three weeks I got the phone it just had a busy signal when people called me. It's slow it freezes up constantly it takes forever to shut down at the apps makes weird sounds in the background screeching sounds beeping sounds tapping clicking sounds when I'm talking on the phone. I just don't have much good to say about this phone it's a cheaper phone yes but it's not worth it pay a little bit more and get a phone that actually works you don't have all the issues believe me you'll thank me later.
Date published: 2020-02-20
Rated

2

out of

5
by
Denise
from
May very well be my last Samsung phone
I don't recall struggling so much with a new cellphone. Not only am I having a hard time getting all the settings to my liking, I was extremely surprised that the charger cord was unique. I now only have one cord that I keep leaving everywhere because I always have to travel with it. And the power button is now on the side, which I struggle with constantly. May have not been a good idea to do away with the bottom on-screen power button, which worked just fine on my last phone. Don't care for the pre-loaded emojis either. As for how it performs, it performs fine. It's just these other challenges that are making it a not-so-enjoyable experience.
Date published: 2020-01-29
Specifications
SIZE 5.8'' Screen Display
STANDBY TIME Standby time up to 17 days
WEIGHT 5.9 oz
BAND (FREQUENCY) CDMA
INCLUDED BATTERY Li-Ion Battery
HEARING AID M3/T3
TALK TIME up to 18.2 hours
What's in the Box?
Includes Galaxy A10e Phone
Charger
Battery
Activation Card
Services Guide and Quick Start Guide.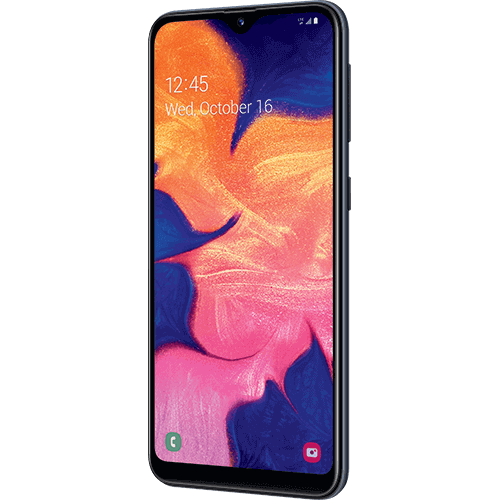 A Service Plan card is required for activation. Plans are not returnable or refundable. Service Plan card is required for activation. Text SAS102DL to 611611 for mobile tutorials.
WARNING: Reproductive Harm - www.P65Warnings.ca.gov
More features
RAM:
Don't worry, keep it all: Keep more with 32GB of built-in memory, so you can keep all of your photos, shows, movies and apps, without having to delete to make room. If you need more storage, expand your memory up to 512GB with a microSD card and store up to 100,000 photos.
CAMERA:
Capture the moment: The Galaxy A10e lets you make everyday moments special. Take crisp, clear photos with an 8MP rear camera and perfect selfies with the kids on a 5MP front camera.
BATTERY:
Long-asting battery: With a long-lasting battery, the Galaxy A10e gives you more time to post, talk, text and share with friends and family.
DISPLAY:
Go edge-to-edge: Enjoy a bold, bright viewing experience on a 5.83'' screen. With an Infinity Display that goes edge-to-edge, you can see more story before you scroll.
We are sorry but this device is not available currently!
Please add your email and we will notify you when this device can be purchased: SUBMIT
*TETHERING TO ANOTHER DEVICE IS PROHIBITED. OTHER LIMITATIONS APPLY. Please refer to your terms and conditions.