$100 OFF! Don't Miss Out!
LG Stylo 5
LG Stylo 5
is rated out of
5
by
337
.
SPEED 4G LTE/Wi-Fi®
USAGE TIME Talk time up to 21 Hrs
DISPLAY 6.2'' FullVision FHD+ (2160 x 1080)
STORAGE 3 GB RAM / 32 GB ROM
CAMERA Primary Camera is 13MP and secondary Camera 5MP
DIMENSIONS 6.33 x 3.09 x 0.34 inches
Immersive Visual Experience.
Maximize your view with a 6.2'' FullVision™ edge to edge display that provides total immersion into your favorite movies, shows, and games. Plus, full HD+ resolution delivers a vivid visual experience with clear picture quality.

In the next step, you will have the option to bundle your Phone with one of our no-contract plans.
A Service Plan Required for Activation. Plans are not returnable or refundable.
---
Rated

5

out of

5
by
Heather1
from
Seems like a great phone
I just got my phone tonight and set it up so far so good! I used to have LG and then went to Samsung so decided to try this as my Samsung j7 crown only has 16gb of storage. This phone is pretty nice however i have noticed they put a lot more factory apps that are automatically on the device and cannot be removed which takes up more of the 32gbs of space they upgraded the phone to. My thought is at that rate of adding required apps they need to add 64gbs of device storage at the least to make sure you can download what you need to. Other than that seems like a really nice pgone! Speaker is good on it as well. Will update my review after having this phone a while.
Date published: 2019-11-06
Rated

5

out of

5
by
Jason1234
from
Advertise this phone better
Phone has face regocnition. Fingerprint. Runs snooth and fast for the price. Got it on Black Friday for $99 but would pay $199 for it if I had too. Lot of features that $800 phones have. Need to advertise that it has face regocnition think u would sell more of em.
Date published: 2019-12-07
Rated

5

out of

5
by
ElijahC
from
Best stylo yet!
I've have th stylo 2, 3 plus, 4, and now the 5, and they've just been getting better and better, for such a great price. I love it, and this will be my phone until that 6 comes out!!
Date published: 2019-10-08
Rated

3

out of

5
by
WScottP
from
I have the style 3 4 and 5 and they are great phones. The only problem that I've experienced with all 3 versions is the message app. When sending or receiving a picture via text message the picture always shows a different picture from my saved photos but only on my phone not the other persons. In order to view what I've received I have to actually download the received photo.
Date published: 2019-11-09
Rated

5

out of

5
by
JamesStee
from
Great phone for anyone
I bought this on sale to replace the LG Solo I had been using. The phone seems a bit faster. Haven't had any major issues. Call quality is good haven't has any problem hearing any calls. Audio speaker is nice and loud for music and videos. Watching youtube or netflix and anything else works real well. Apps open fast, browser is fast. Playing high graphic intense games like PubG, Call of Duty, and those kinds will lag some and stutter, games like candy crush, coin master will play good. The cameras are not high quality like iphone or the Samsung S's but will work good in good lighting, front camera does ok not the best but is capable of a decent picture in fair lighting, works well in video calling. The back is pretty good when you got decent amount of light around you in low light and at night the camera will get grainy. I only have 2 small complaints, first off as of now you are not able to add apps to an SD Card, I tried everything I could and wasn't able to achieve this, I also googled this and confirmed other people have this problem, there may be an software update to fix this in the future I did receive an update when I first got the phone However you do get 16 GB's of storage I downloaded 20 apps and still have 9 GB's left which is plenty. You can move pictures, music, videos, ebooks, and all other files to the SD card just not apps. My last gripe is the battery takes about 3 hours to charge from 15 percent. The battery is good though, and will last all day, I use battery saver and get 7 hours of screen time. I read that the phone supports quickcharge 3.0. I haven't tried this yet, but if you have a quickcharger you can use it on here and get it charged faster. Overall there are more good things about this phone than bad. I recommend this phone for anyone who is an LG person, and even for anyone just looking for a nice phone with a big screen. I absolutely love my LG Stylo and don't regret buying it. Hope this helps anyone trying to make a decision on buying this phone.
Date published: 2019-12-03
Rated

1

out of

5
by
Anonymous
from
Defective From The Start
I was trying to surprise my boyfriend with a new phone. He loves LG, so I decided on this model. Upon the first phone's (brand new) initial start-up, I heard ringing while on the Tracfone screen and then the beeping tone as if you forget to hang up on the launguage/accessibility screen. I tried checking all options and factory resetting the phone. I then called Straight Talk and exchanged the phone for another of the same model (refurbished). Same thing happened again with the second phone too. I decided to return for a full refund. I'll buy him a different phone.
Date published: 2020-10-02
Rated

5

out of

5
by
Anonymous
from
Awsome
great phones, have been a straight talk customer for 7 years very satisfy, would not change for nothing, one question? is there any way I can keep my same number with a new LG Stylo 5 LTE?
Date published: 2020-01-18
Rated

1

out of

5
by
Tony72
from
No good
I bought this phone specifically for its 32g internal storage and the ability to add an SD card. I had a 16g phone prior to this, and figured the extra 16g PLUS another 16g on SD card would be ample storage. As it turns out, the phone come out of the box with HALF of that 32g used by preloaded manufactuerer apps. So I think to myself, ok at least I have this SD card. I will store my spotify music on that. Can't do that either!! The phone restricts you from being able to format the SD card as internal storage. So in all. I thought i was getting a phone with 48 gigs of storage (minus a few gigs for the normal preloaded stuff), and ended up with a phone of 16gigs and a useless SD Card. Im not sure, but this could be specific to the straighttalk model of this phone. I dont know if these phones work better from another carrier. If storage isnt your priority then this phone works like any other phone. Theres nothing better about it, than any other phone. I dont recommend this phone.
Date published: 2020-04-26
Specifications
SIZE 6.33 x 3.09 x 0.34 inches
STANDBY TIME Standby time up to 20 days
WEIGHT 6.38 (ounces)
BAND (FREQUENCY) Technology: CDMA|LTE Bands
INCLUDED BATTERY Non-Removable 3500 mAh battery
HEARING AID M3/T3
TALK TIME Talk time up to 21 Hrs
What's in the Box?
Includes Charger
Battery
Activation Card
Services Guide and Quick Start Guide.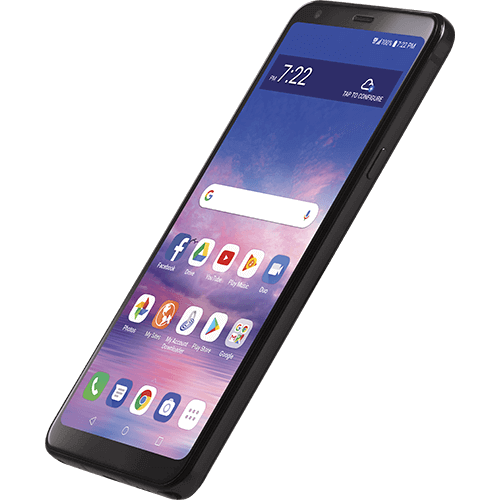 A Service Plan Required for Activation. Plans are not returnable or refundable.
WARNING: Cancer and Reproductive Harm - www.P65Warnings.ca.gov
More features
RAM:
3 GB RAM / 32 GB ROM
CAMERA:
Crystal Clear Photography - Take your best shot with an advanced 13 MP camera. Phase Detection Auto Focus (PDAF) minimizes blur and captures rapidly moving subjects with sharp focus.
BATTERY:
Non-Removable 3500mAh battery
DISPLAY:
Display - 6.2'' FullVision FHD+ (2160 x 1080), 18:9 Aspect Ratio
We are sorry but this device is not available currently!
Please add your email and we will notify you when this device can be purchased: SUBMIT
*TETHERING TO ANOTHER DEVICE IS PROHIBITED. OTHER LIMITATIONS APPLY. Please refer to your terms and conditions.