Samsung Galaxy S8 (Black) (G950U1C)
Samsung Galaxy S8
is rated out of
5
by
768
.
Availability: Out of Stock
Please select a payment option.
SPEED 4G LTE/Wi-Fi®
USAGE TIME Talk time up to 28 Hrs
DISPLAY 5.8'' QuadHD Display
STORAGE Memory: 64GB with 4 GB RAM, expandable to 256 GB
CAMERA 12 MP LED flash Camera
DIMENSIONS 148.9(H) x 68.1(W) x 8(D) mm
Infinitely amazing. Do even more.
Unlock new possibilities, from your wallet to your home, with apps and services designed to help you live better.

In the next step, you will have the option to bundle your Phone with one of our no-contract plans.
A Service Plan card is required for activation. Plans are not returnable or refundable. Transfer Wizard app available to move stuff from your old phone to our new phone. Text SAG950 to 611611 for mobile tutorials
---
Rated

2

out of

5
by
Daye
from
Infinity Screen was a TERRIBLE Idea
I have always LOVED the Galaxy line, but this Infinity screen was a terrible idea. I have never, ever broken a cellphone, but I have broken 2 of the Galaxy S8s since April, both within just a couple weeks of each other. I had a ZAGG screen protector (popped right off because of the curved screen) and a case on my phone. The second phone even had an OtterBox. These screens are extremely fragile. Everything else, is great and Samsung holds up to their reputation, but there is definitely a reason that phones should not be all screen and no body. What good does it do to have a phone with awesome features, if it's just going to shatter all the time?
Date published: 2017-05-30
Rated

5

out of

5
by
PopFlyParty
from
AMAZING DISPLAY, PROTECTION, AMAZING PHONE
My first phone was an IPhone 5c and i had it forever and the only regret from switching is the IMessange but even then it wasn't that hard to move. The fingerprint scanner isn't the best, but I've gotten used to it. Another complaint i have is the Samsung doesn't update some phones so i'm hoping this wont be the case. But besides that this phone is the best thing i have ever owned and I love it. The infinity display makes it look like i'm one thousand years in the future and even after seeing the IPhone X i still think the Galaxy s8 is better, The display, size, and the customization that android allows. Over all this is the best phone i could ever ask for and its perfect.
Date published: 2018-01-22
Rated

5

out of

5
by
cj1976
from
Hands down 1 best phones samsung ever to date
I love this phone I've owned well past 20 different android phone and well over half them have been samsung galaxy j3.s2 .s3. s5 .s6edge+ .note 3. note 4 and note 5 so far my favorite been s8 I like dex desktop and just over all build of s8 is great the only thing i wish they would made screen harder to crack or break iv heard more s8 and s8plus tend break easier then the s7edge and for monwy tgey should give free repair if breaks with in year others then screen the phone is great if only had mine month now but very pleased with phone I own pixel aswell for work and try kinda my get them to get me the s8 instead
Date published: 2017-07-02
Rated

5

out of

5
by
Kelann84
from
Touch sensor
I am a BIG fan of samsung. All my phones have been samsung. I love the S8 for the most part but one thing I dislike is the touch sensor on the phone. I've been through 2 temper glass screen protectors but had to take them off because I can't do anything with the touch screen aspect of the phone. I don't know if it's the sensor or the design of the phone but you cannot use a screen protector on this phone and it's a sham considering how much you're paying for the phone.
Date published: 2018-05-12
Rated

2

out of

5
by
brittlesamsung
from
This product is fragile
The screen on this phone is extremely brittle. It had a crack within 72 hours of ownership. It fell approximately 14 inches onto a hard surface and broke. If you do anything other than use this phone while on the couch rest assured that it will break with little effort. The phone is also very sleek which does not lend itself to being handled without a case that has grip, If you only put a screen protector on, you will drop this phone. Also, 1 have tried 3 screen protectors and they peelup on the edges due to the downsloped screen.
Date published: 2017-06-07
Rated

5

out of

5
by
onufrm
from
Great phone - and no problems activating here!
I already had a Galaxy S8 for myself and I love it. So I wanted to get another one for my kid. I shopped around, and I could not bring myself to pay what Verizon charges. So I bought one from a local electronics chain, and we could not get it to activate, even though it should have worked. So I returned that one. Then I read a post from someone who said they bought theirs directly from Samsung. I was surprised to see their price was just as good as the best offers for new phones on eBay! And when I saw that I could activate the phone on Verizon directly through Samsung, I was confident that it would activate. And it did - I went through the activation steps right here on samsung.com, and it was really easy, and it worked the first time!
Date published: 2018-07-17
Rated

5

out of

5
by
Dakotah Samsung Fan
from
Upgrade over the s7 edge in certain ways
Battery life is decent, screen is vibrant and speaker doesnt get that loud but sounds fine. The color looks different in person.
Date published: 2018-07-20
Rated

5

out of

5
by
MysxS1
from
Fantastic, even with flaws
I bought received this phone as a present a year ago. It was a phone out of a science fiction movie. I love it. Then, problems became an issue. I had burn in my screen and water in the charging port. Which, might I add The phone no contact with water in the 1 year spand. I was also having problems with it glitching out sometimes I had to restart the phone just so it doesn't happen that often. Nevertheless, Samsung recommended me to a repair shop that did everything under the 1 year warranty. I was extremely happy with what they recommended me because they told me they couldn't hand my phone back till it was 100% performance level that Samsung wishes all devices to be. My phone is in tip top condition and I would recommend it to anyone buying a phone despite the few problems.
Date published: 2018-08-27
Specifications
SIZE 148.9(H) x 68.1(W) x 8(D) mm
STANDBY TIME Standby time up to 4.5 days
WEIGHT 151 g (5.36 oz)
BAND (FREQUENCY) Technology: GSM / HSPA / LTE
INCLUDED BATTERY Battery Non-removable Li-Ion 3000 mAh
HEARING AID M4/T3
TALK TIME Talk time up to 28 Hrs
What's in the Box?
Charger
Battery
Earphones
Activation Card
Micro USB OTG Adapter
Services Guide and Quick Start Guide.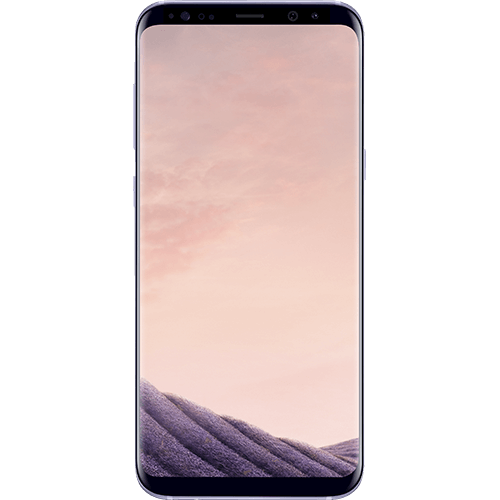 A Service Plan card is required for activation. Plans are not returnable or refundable. Transfer Wizard app available to move stuff from your old phone to our new phone. Text SAG950 to 611611 for mobile tutorials
WARNING: Reproductive Harm - www.P65Warnings.ca.gov
More features
RAM:
Internal Memory 64/128 GB, 4 GB RAM, microSD, up to 256 GB.
CAMERA:
Our dual-pixel camera is fast enough to catch just about anything, and smart enough to understand what it sees.
PROCESSOR:
Qualcomm MSM8998 Snapdragon 835
DISPLAY:
5.8'' Super AMOLED capacitive touchscreen, 16M colors
We are sorry but this device is not available currently!
Please add your email and we will notify you when this device can be purchased: SUBMIT
*TETHERING TO ANOTHER DEVICE IS PROHIBITED. OTHER LIMITATIONS APPLY. Please refer to your terms and conditions.