LG Stylo 3
is rated out of
5
by
110
.
Availability: Out of Stock
Please select a payment option.
SPEED 4G LTE/Wi-Fi®
USAGE TIME Talk time up to 20 Hrs
DISPLAY 5.7'' Touch Display
STORAGE Internal Memory up to 16 GB (device only)
CAMERA 13MP Camera
DIMENSIONS 6.13'' (H) x 3.15'' (W) x 0.29'' (D) inches
Creativity Gets Down To Business.
Let's get in touch with our inner artist. Let's get in touch with our inner engineer. Let's do both with one device. Whether you're a right-brainer or lean to the left, the LG Stylo™ 3 is built to capture everything you do and more. We've got being creative down to a science.

In the next step, you will have the option to bundle your Phone with one of our no-contract plans.
A Service Plan Required for Activation. Plans are not returnable or refundable. The Transfer Wizard app is available to transfer items for your old phone to your new phone. Text LGL84VL to 611611 for mobile tutorials
---
Rated

5

out of

5
by
Jolly Bean
from
This phone rocks
I love the phone its great. But the have one of the stats wrong on the description. It has a 13 megapixel back camera and a 8 megapixel front facing camera. I own the phone so I should know. Only problem I've had isn't even with the phone, its with the company that shipped me the phone. They sent it with a malfunctioned SIM card. So now a week later I'm still waiting on a new SIM card. But the phone is legit! I do wish I could have got it in a different color but hey it is great. So much memory and it can hold up to a...... Drum roll please.... A WHOLE TERABYTE! That's right a terabyte of info. A terabyte is about 2000 gigabytes and this phone can take it!
Date published: 2017-12-11
Rated

4

out of

5
by
ZenLissa
from
Whole lotta good... But a major issue...
Bought the LG Stylo 3 from ST a few weeks ago. Beautiful phone. Fast. Love it. Until the second day. My phone audio (earpiece AND speaker) were putting out NO sound. Fast forward a week ( 5 seconds from calling ST and getting it replaced... Although I knew it would be WEEKS before I had a replacement in hand, grr ) and I ran across a thread FULL of people experiencing the same problem. One of them suggested dl'ing an app called Soundabout bc it had fixed their problem. I tried it and VOILA! LONG story short, apparently this phone has software to hardware communication problems. I do love my Stylo otherwise.
Date published: 2018-01-17
Rated

5

out of

5
by
Sarajames
from
Love this phone
I have had iphone, galaxies, and this phone is by far my favorite. I would spend 700 dollars on a phone and I don't think I will do that ever again. This phone is very affordable and reliable. The battery life is awesome. The screen is pretty big. Love that it has the fingerprint feature and ability to unlock my phone if I am at home. It has the quick memo feature and the built in stylus. Havent listen to much on it. Honestly the only thing I wasn't thrilled about is the ability to block people from messaging me, but its something I can live without. Love this phone and would recommend to anyone.
Date published: 2018-03-21
Rated

5

out of

5
by
Iz488
from
Great phone! Good service.
I got mine about 9 months ago. It is easily superior to any of the other brands or models of phones I've owned. Screen size is great. I will agree the camera could be a little better. For the price with all its features I'd feel a bit greedy complaining about that. As I said "it could be better", but its not that bad. No negative issues with anything so far. I was concerned about finding a case that fit properly but eBay had what I was looking for. I would also like to mention service. I've had nearly all the big carriers out there at one time or another. Service issues would have me moving on to try a different one. I am excited and pleased that I found Straight talk and plan to stay put.
Date published: 2018-06-28
Rated

4

out of

5
by
Momiss
from
Great phone but accessories....
This is a great phone for a small price. I got the Straight Talk unlimited data and everything for $55 per month. The only problem is finding accessories to go with it. I went back to Walmart and bought a case that was supposed to fit it. But it didn't... So I went back again and bought an OtterBox which fitsit perfectly. I cannot find a glass protector for the screen that fits it at Walmart though. Do not be fooled when it says it fits the LG Stylo 3. It does not fit! Very disappointed and the sales associate that was back there kept sighing heavily and did not seem to have any time to help me. Which didn't really matter in the long run, because they only had one choice available. I will be going to eBay to see what I can find next.
Date published: 2018-04-24
Rated

5

out of

5
by
Midnight 77
from
Absolutely great phone.
[This review was collected as part of a promotion.] I've always been a galaxy user, and not an apple fan, so short on cash I decided to buy this LG stylo3. I don't know why I spent all that money on galaxy phones. I love the galaxy, but they are expensive. This phone has the same android software as the new galaxy and works just as good. No problems what so ever. Great screen and camera. Unless u just are buying the phone status symbol. This phone is the way to go. The big screen is a major plus. The battery life is great. I've never ran it out in a day. I mean I guess u could if u watched tv all day long. But just surfing the web and phone calls I bearly use 50%.
Date published: 2018-01-02
Rated

5

out of

5
by
KMarie1175
from
Excellent Phone A+++++
I have been buying the LG Stylos for years now. Starting with the original and finally working my way up to the Stylo 3. I have always loved the LG Stylos, hence why I always bought them. However, the LG Stylo 3 surpasses, in excellence, all others before it. I am absolutely in love with this phone. The 7.0. operating system runs smoothly. The advanced features, with all the extras that I've always wanted on a phone...the list goes on. I would most definitely recommend this phone to anyone and everyone.
Date published: 2018-03-04
Rated

5

out of

5
by
RT440
from
Solid phone
So far, for around $140.00 with shipping, this phone is faster and has a better looking screen than my Stylus2. 16 th of internal memory helps. Also, I put a 512 th micro ad card in the Stylus 3 and it reads 500 th. That is a good sign.The only thing I'm worried about is cracking the screen. I have a military grade So do case and an LK 9H hard glass protector screen which installed nicely. I'll update review in a few months. For the money it's hard to beat.Especiaaly since the OS is Nougat 7.0.
Date published: 2017-12-04
Specifications
SIZE 6.13'' (H) x 3.15'' (W) x 0.29'' (D) inches
STANDBY TIME Standby time up to 13 days
WEIGHT 5.3oz.
BAND (FREQUENCY) Technology: CDMA, LTE
INCLUDED BATTERY Battery Capacity: Li-Ion 3,200 mAh
HEARING AID M4/T4
TALK TIME Talk time up to 20 Hrs
What's in the Box?
Charger
Battery
Activation Card
Services Guide and Quick Start Guide.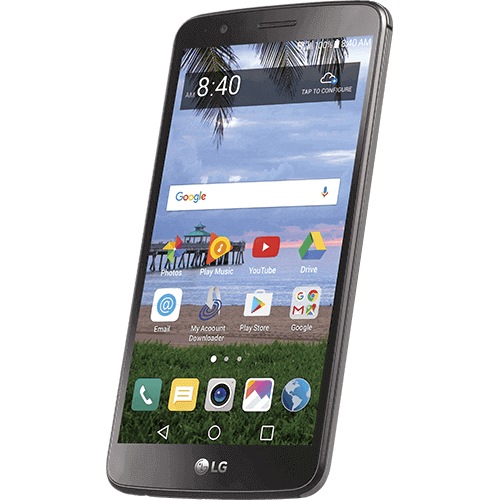 A Service Plan Required for Activation. Plans are not returnable or refundable. The Transfer Wizard app is available to transfer items for your old phone to your new phone. Text LGL84VL to 611611 for mobile tutorials
More features
OS:
Android™ Version 7.0 Nougat.
Display:
5.7" HD Display - View vibrant pictures, videos and on-screen entertainment in authentic color and eye-opening clarity
Memory:
Internal Memory up to 16 GB (device only), Supports microSD Memory Card up to 2TB (not included)
Processor:
Qualcomm® Snapdragon™ 435 MSM8940 1.4GHz Octa-Core Processor.
Network:
4G LTE Network - Wi-Fi® Connectivity 802.11 b/g/n
We are sorry but this device is not available currently!
Please add your email and we will notify you when this device can be purchased: SUBMIT
*TETHERING TO ANOTHER DEVICE IS PROHIBITED. OTHER LIMITATIONS APPLY. Please refer to your terms and conditions.