LG Premier Pro Plus
is rated out of
5
by
121
.
SPEED 4G LTE/Wi-Fi®
USAGE TIME up to 17.5 hours
DISPLAY 6.1'' HD+ FullVision Notch 1560 x 720
STORAGE Internal Memory: 32GB (16.3GB usable)
CAMERA Dual Rear: 13 MP / Wide 5 MP / Front: 8 MP
DIMENSIONS 6.15''(H) X 2.92''(W) X 0.34''(D)
Designed to Impress.
To the value seekers and great deal getters. You're in the market for a smartphone that accomplishes the essentials, one that looks and feels great. And you also love to make and share memories, so you need a camera that's sharp and quick. Because life moves fast! LG's got you covered: meet the LG Premier Pro Plus.

In the next step, you will have the option to bundle your Phone with one of our no-contract plans.
A Service Plan Required for Activation. Plans are not returnable or refundable.
---
Rated

4

out of

5
by
Bridget R
from
Phone case
I bought this phone today and thought it looked pretty good, just glancing at the info card from Walmart. What I didn't know is that the phone had no case to go with it, and you can't really find one online. Here is a little tip: There are cases for it. Sort of. I did lots of looking and comparing to other phones, and it seems like this phone has many other names. So far I've gathered the relevant names/ phones similar as : LG Aristo 5 Plus, LG K31/LG Fortune 3/LG Phoenix 5, and LG Harmony 4. I would look at amazon with these phones name to find a case. I've found one that I bought and it should fit since it matches the dimensions, although it is a clear case. I hope this helped :)
Date published: 2020-07-02
Rated

5

out of

5
by
Anonymous
from
works well for me
I read a lot of reviews on the different phones. chose this one. mostly good reviews. the not so good reviews seem to be because people didnt know how to use the phone or features. i like this phone because it doesnt have a lot of bells & whistles. i dont live on my phone like some - good for making calls, sending text, taking pics, playing a few games. this phone has more to offer than what i just mentions SO it is a good all around phone. i appreciate the person who gave the advice about the phone case! stores didnt have a phone case so did have to order off amazon. it was painless.
Date published: 2020-10-26
Rated

4

out of

5
by
Momof8brats
from
I bought my husband one because he needed a cheap and halfways decent phone a couple of weeks ago. I myself had the slightly more expensive Moto G 7- but this one here is better. As it happens, my $100 Moto g7 got damaged and after a couple days I got lucky enough to score this one for myself, as well and am now buying my daughters one. I like this phone. Unfortunately, it's impossible to open the negative reviews in order to see what to look out for- that's not good from StraightTalk. So far, so good. Battery life is okay, there are a few features that I don't care for, making it a bit more complicated to use, but then again, I don't have to use those features ( once I figure out how to disable) . Given this is a cheap phone, it's really decent.
Date published: 2020-07-25
Rated

5

out of

5
by
No need to thank me YW
from
Phone Cases Are Available
So.....I like the LG phone brand. And, I wanted to buy this model. But, I was skeptical about buying it because of the reviews saying there isn't any phone cases available for this phone. After some intensive searching I finally found a phone case for this phone. You can purchase phone cases under Harmony 4 . I ordered this phone case and it fits perfectly. Please read description at the top of pic.
Date published: 2020-08-03
Rated

5

out of

5
by
KadyM
from
Nice phone for price/Tons of cases on ebay
Nice speakers. Double the memory than my rebel 4 had. Great price. Nice size screen. I found tons of nice cases on eBay. I have $25 in 3 great cases. I couldn't be happier. This phone deserves 5, stars all day. The Samsung a10e wouldn't even work at my house. I had to return it. LG never fails me though. Love this phone!!!
Date published: 2020-08-26
Rated

4

out of

5
by
Gregman664
from
Unexpected value!
Right off the bat this phone looks good. It's rounded edges and shiny grey back just make it feel premium. I come from the LG journey LTE which cost $90 just a few months ago and when I saw this for $80 I decided to get it not knowing what to really expect. The CPU is an octo core Helio p22 w/4 at 2ghz and 4 at 1.5ghz so powerful enough to run WOT blitz at Max. The screen is pretty big and it's a 6.5 inch 720p display so not the sharpest but it's still a decent display. Where this phone really shines is in the camera and audio departments. The 13mp rear camera either has OIS or really really good EIS because videos are super smooth even in dim afternoon light. And the portrait mode setting for both selfie and main cameras is a noon to any millennial. And the stereo speakers are a great feature the online specs won't tell you about. Yes you heard correct this $80 phone has stereo speakers a feature most phones under $500 don't have and they are pretty loud to boot. All in all I'd say this phone is worth it if you are looking for a phone under $100 thats got style and features.
Date published: 2020-07-31
Rated

1

out of

5
by
Chiers
from
Not the best
Not happy with over quality. Low volume speaker, apps are slow. Overall poor phone.
Date published: 2020-06-25
Rated

1

out of

5
by
Kristikay
from
Unusable after only 6 days
I activated .my phone on October 13. On October 19, I was trying to connect to a Bluetooth speaker, when suddenly a message pops up saying, "invalid battery " and the phone shut itself off. I tried setting it back to factory, but it still says "invalid battery" and shuts itself off after being on for about 60 seconds. The battery was charged to 91% when this first happened, and nothing traumatic precipitated this sudden conviction that its battery is counterfeit. It is an unremovable battery with less than one week's use on it. I an extremely unhappy at having wasted over $80 on this phone. I always really liked LG phones, until this happened. I not only cannot recommend this phone, but I don't think I can recommend any LG phones.
Date published: 2020-10-23
Specifications
SIZE 6.15''(H) X 2.92''(W) X 0.34''(D)
STANDBY TIME up to 18.2 days
WEIGHT 6.1 (ounces)
BAND (FREQUENCY) CDMA 1.9 GHz/800 MHz; WCDMA Bands; GSM 850/900/1800/1900 MHz; LTE Bands 2/4/5/12/13/ 25/26/41(HPUE)/66/71
INCLUDED BATTERY Battery - Lithium-ion (3500 mAh)
HEARING AID M3/T3
TALK TIME up to 17.5 hours
What's in the Box?
Includes Charger
Battery
Activation Card
Services Guide and Quick Start Guide.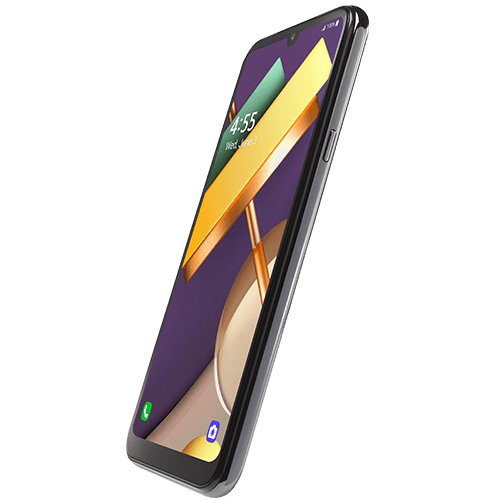 A Service Plan Required for Activation. Plans are not returnable or refundable.
WARNING: Cancer and Reproductive Harm - www.P65Warnings.ca.gov
More features
Sleek, Real Metal Design:
A strong, sophisticated build protects what's inside while 2.5D Arc Glass provides that smooth, comfortable grip.
6.1'' HD+ FullVision Notch Display:
See clearly on the large screen that presents your life in bright color and eye-opening detail.
13 MP/Wide 5 MP Rear Dual Camera with AutoFocus:
Capture moments exactly as they happen with instant focus and zero shutter lag-then share with everyone.
8 MP Front Camera with Auto Shot:
Snap selfies effortlessly with no hands-just facial recognition.
3,500 mAh Non-Removable Battery:
Don't let anything keep you from accomplishing your day. This phone has power that lasts.
We are sorry but this device is not available currently!
Please add your email and we will notify you when this device can be purchased: SUBMIT
*TETHERING TO ANOTHER DEVICE IS PROHIBITED. OTHER LIMITATIONS APPLY. Please refer to your terms and conditions.