LG Rebel 4
is rated out of
5
by
67
.
SPEED 4G LTE Network
USAGE TIME Talk time up to 16 Hrs
DISPLAY 5.0'' HD TFT (IPS) 1280 x 720 Display
STORAGE Internal Memory: ROM: 16GB - RAM: 2GB
CAMERA Rear: 8MP Autofocus / Front: 5MP Fixed Focus
DIMENSIONS 5.70'' (H) x 2.83'' (W) x 0.31'' (D) inches
Dare to be Exceptional.
Make the LG Rebel 4 your next upgrade. This prepaid smartphone has everything you need, and nothing you don't. The LG Rebel 4 offers an impressive 16 hours of talk time, plus 16GB of storage with more room to expand! And if you need a phone that's sleek, fast, and powerful to keep up, don't worry. The LG Rebel 4 has a powerful quad-core processor and works on America's most reliable lightning-fast 4G LTE networks. For added convenience, the LG Rebel 4 is also hotspot compatible, allowing you to share your Internet connection at home or on the go. All you have to do is purchase a hotspot to get started.

In the next step, you will have the option to bundle your Phone with one of our no-contract plans.
A Service Plan Required for Activation. Plans are not returnable or refundable. Text LGL212VL to 611611 for mobile tutorials.
---
Rated

1

out of

5
by
Ellybean
from
DO NOT RECOMMEND
Shortly after buying phone I started having problems. Within a few months I was having problems doing basic functions and receiving notifications that there was not enough internal storage. I did not have a lot of apps installed but I had to uninstall a lot such as FB messenger etc. The phone wiped out several apps without my permission. Despite uninstalling and deleting apps and files I continue to have no internal storage. Unable to perform basic tasks. Not even able to delete msgs, calls etc to make room. Have to buy new phone. If you like to watch Netflix or stream videos buy higher than 16 GB. If you want a phone that will last, spend more
Date published: 2020-03-15
Rated

5

out of

5
by
BLN1339
from
Very happy with my downgrade
I'm stepping down from a Samsung Galaxy S7 and I couldn't be happier! This phone does everything I need it to do and has the memory to run all the apps I need for work. I wish it had expandable storage though, but I just back up my photos to Google Photos so it's fine. The wake/sleep button on the back takes a little getting used to, but overall I am extremely happy with this phone and pleasantly surprised at it's features, speed, and overall awesomeness. FIVE STARS!
Date published: 2018-10-03
Rated

5

out of

5
by
Denise Smith
from
Perfect, simple, easy to figure out and, durable !
Ive had this phone now for about 6 months. It's been thrown across pavement extremely hard. The back has been bent in half and didn't break. Rode over by a SUV ( ford escape 06) ive been using it with a cracked screen. The battery life is not that bad if you don't have too much running on it. Ive dropped it alot but I do have a cheap case on it ever since it was thrown and all. I thought for sure it was smashed so I couldn't believe it when the screen did not break. Then I went ans got the case. Over all its a great deal if you don't need anything too fancy.
Date published: 2019-04-26
Rated

4

out of

5
by
olsenscott5
from
Perfect Work Phone
Sure it doesn't have all the bells and whistles of an IPhone or Galaxy S2000 or whatever, but if you need a phone that has decent storage and can run apps and stream some videos if you need it to, then this is the phone for you. Very satisfied.
Date published: 2018-11-27
Rated

5

out of

5
by
Skor304
from
Was expecting less.
I got this phone as a replacement for my iPhone 6 that my wife had dropped in the toilet. I needed a phone quick and she picked this one up. To be honest I don't miss the iPhone. This phone is comparable if not better. In the hand it feels more cheaply constructed but the glass screen is smooth responsive. It has far superior battery life. Overall a solid in a pinch replacement or backup phone.
Date published: 2018-11-29
Rated

5

out of

5
by
Martha jean
from
Great phone
When I bought this phone I didn't know how great this phone would be.i am so glad that I did get this phone. Everything about this phone is a o great.
Date published: 2018-11-03
Rated

5

out of

5
by
Kaycee
from
Fantastic phone
I bought this phone 2 days ago and it's fantastic. Although it doesn't have a notification light for any missed calls/text messages it still has great features such as the finger print unlock, and the screen is nice. It is much better than my previous phones that I have purchased from straight talk and I am definitely happy with this purchase. I can't find anything negative to say about this phone.
Date published: 2019-07-06
Rated

4

out of

5
by
fantasyking
from
Great phone for the price.
Not gonna bash on the phone because it just doesnt compare to an iPhone. But some small things that I noticed include decent sound quality. Decent video quality. Slower processor. Very sensitive and decent keyboard. Battery life is okay.. Overall for $49.99 its a good starting phone.
Date published: 2019-07-05
Specifications
SIZE 5.70'' (H) x 2.83'' (W) x 0.31'' (D) inches
STANDBY TIME Standby time up to 12 days
WEIGHT 4.95 oz.
BAND (FREQUENCY) Technology: CDMA, LTE
INCLUDED BATTERY Removable 2,500 mAh Lithium-Ion
HEARING AID M4/T3
TALK TIME Talk time up to 16 Hrs
What's in the Box?
Charger
Battery
Activation Card
Services Guide and Quick Start Guide.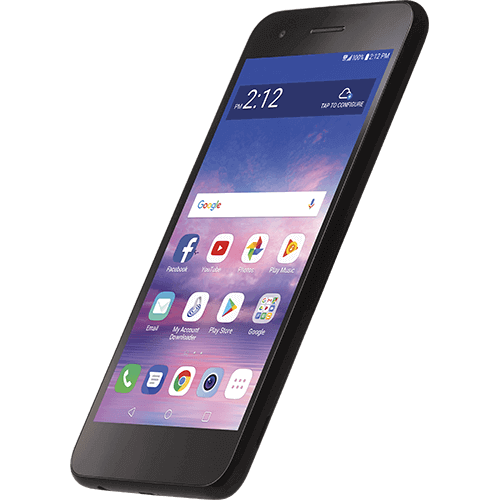 A Service Plan Required for Activation. Plans are not returnable or refundable. Text LGL212VL to 611611 for mobile tutorials.
More features
Android™ 8.1.0 Oreo™ operating system:
Fast and easy to use, this OS can meet the demands of your busy lifestyle.
5-inch HD TFT (IPS) display:
The crystal-clear touchscreen offers bold, vivid colors and easy-to-read text.
16GB ROM/2GB RAM memory:
No matter how long you have the LG Rebel 4, you can always count on having enough storage. That's because it's expandable with microSD™ support.
8MP rear camera:
With features like Auto Focus and zero shutter lag, you'll be able to capture high-quality photos without missing a beat. Switch to the front-facing camera for selfie mode with just the tap of a finger.
4G LTE network:
Qualcomm wireless technology and fast network speeds give you hours of streaming, and even more hours of app usage. From catching up on your latest Netflix binge to calling and texting friends, the LG Rebel 4 has you covered.
We are sorry but this device is not available currently!
Please add your email and we will notify you when this device can be purchased: SUBMIT
*TETHERING TO ANOTHER DEVICE IS PROHIBITED. OTHER LIMITATIONS APPLY. Please refer to your terms and conditions.