Samsung Galaxy A50 (S506DL)
Samsung Galaxy A50 (S506DL)
is rated out of
5
by
36
.
SPEED 802.11 a/b/g/n, 2.4 GHz, Bluetooth v5.0
USAGE TIME up to 25 hours
DISPLAY 6.4'' FHD Super AMOLED - 2340 x 1080
STORAGE 4GB RAM - 64GB ROM
CAMERA Triple 25MP main camera + 5MP + 8MP Camera / 25MP Front Facing Camera
DIMENSIONS 6.24'' x 2.94'' x 0.30'' inches
Introducing the Samsung Galaxy A50
Designed for the way you live, the Samsung Galaxy A50 is the smartphone you've been looking for. Go all day and into the night with a high-capacity, long-lasting, fast-charging battery. Capture life's moments exactly the way you want to remember them with the Galaxy A50 multi-lens camera. And elevate your entertainment experience with a vibrant 6.4'' Infinity Display that delivers a clear, edge-to-edge view.

In the next step, you will have the option to bundle your Phone with one of our no-contract plans.
A Service Plan card is required for activation. Plans are not returnable or refundable. Service Plan card is required for activation. Text SAS506DL to 611611 for mobile tutorials.
---
Rated

5

out of

5
by
Rashied
from
Upgrade phone experience without the UPGRADE price
Bought this phone Monday and I love it .I like the way it feels in my hand, the camera is GREAT. Phone STAYS charged, as promised. Not alot of preprogrammed JUNK apps. Lots of speed and storage. I'm a Samsung junkie , but I'm not paying $1200 for a phone , so this the next best thing and I dont feel like I'm missing out on ANYTHING. THANKS SAMSUNG for thinking about us people who have rent , mortgages, tuitions and LIFE in : REAL LIFE !!! Found an Otter Box case online , so my phone is now protected.
Date published: 2020-04-18
Rated

5

out of

5
by
Sizzling
from
One of the best phones EVER!
I love the phone. The Samsung Galaxy A50 is a really great phone. The speaker is loud and clear, which is great when using your speaker for hand free calling and video calls. Everyone can hear each other perfectly. And this phone takes marvelous pictures and videos, they are breath taking. and it also has a fast processor which makes searching the wed and downloading a breeze. I would highly recommend this for. and the selfies are amazing!
Date published: 2019-12-21
Rated

5

out of

5
by
getearly
from
Excellent phone choice
Why spend all the extra money on the larger S phones unless your a super user or gamer This phone has all the needs for any basic day to day user. My last phone was S7 and this A50 compare well to it. The battery life has been grate. My service S.T. works great with it no problems. The speed of the phone is great The camera is Excellent easy setup for folders The Video is assume you have options such as pro, panorama, super slow-mo or regular slow. easy transfer of all of my information with Samsung Smart Switch and I mean all of it no problems so don't waste money just going to be status symbol
Date published: 2020-07-31
Rated

5

out of

5
by
Dhall629
from
Fantastic phone
I bought the Samsung A50 4 months ago, I love this phone. I have not had any problems with my phone, it is fast, reliable, and sexy. Camera is amazing, the picture quality compared to every phone I've had previously is incredible. My pics are sharp, the color is great. Battery life is good, with the lightening charger I can fully charge it in a couple of hours, tops. I highly recommend the A50, it is a great phone at an amazing price.
Date published: 2020-03-23
Rated

5

out of

5
by
Missyanne2019
from
Samsung galaxy A50 is a beast!
I'm loving it so far! It's good quality product n enjoy all task on there.. way better than iphone because it's so boring design and nothing changes since they came out every year for new models.. I'm not going back to iphone no more.. like to ripped off my money n its garbage.. samsung are so awesome! 5 stars *
Date published: 2019-11-29
Rated

3

out of

5
by
Joey B
from
Good Enough.
The Galaxy A50 is a good middle of the road smart phone. It can handle most day to day tasks and battery life is good. It supports fast charging which is handy when you're on the go. Simple and easy to use, great screen quality. Only downfall is OTA software updates don't happen on Straight Talk branded devices. I would recommend getting this device in an unlocked, unbranded version that way you receive OTA updates for the security of your device.
Date published: 2020-03-18
Rated

4

out of

5
by
Chumley
from
Great Phone
I've had this A50 since 1/1/20 VERY happy with it ! Replaced my S5 which I thought was fine too, like all my Samsung electronics. My GF just got an S10+ mine is just fine and $600 cheaper. A few less options but just fine with me it does everything I need.
Date published: 2020-02-17
Rated

5

out of

5
by
midniteneon
from
Budget Pixel, great phone!
I bought this phone from Straight Talk about 3 weeks ago and I love it! For the money it is one of the best budget-oriented smartphones you can buy today. I upgraded from a tired, broken Apple iPhone 6 that was a hand-me-down when I got it 4 years ago and slowly started to fall apart over time, living a rough life as I was a mechanic at the time. This phone was super easy to adjust to coming from iOS and the Samsung One UI is very user-friendly. I am very impressed with the come-up Android has had since I last used an Android, back with my Galaxy S5. Getting signed into your Google account was a breeze and having unlimited photo storage is awesome. I used their desktop app to sync and backup all my pictures and I can access them anytime I want. The phone has 64gb of onboard storage which is plenty for this day and age, and features a Micro SD expansion slot for up to 512gb of additional storage. The phone itself is very handsome and sleek, the back battery cover being an iridescent blue that changes colors depending on the light hitting it, which reminded me of the old SVT Cobras. The phone itself is quite big and commands a decent heft, but feels good in your hands. I do not recommend using this phone daily without a case as the back cover is very slippery. The only buttons on the phone are on its right side and you can control the volume and turn the phone on or off. Pressing the volume down and power buttons at the same time captures whatever is on your screen at the moment. There is also a 3.5mm headphone jack on the bottom of the phone, which is a novelty in this day and age as most handsets have removed this feature. The Galaxy A50 features a GORGEOUS 6.4" AMOLED display that goes from edge to edge. The colors are vibrant, the blacks pop out and the display is excellent for watching movies. It also has a built in fingerprint scanner. Another big selling point to the Galaxy is that it has a powerful 25mp front camera and a triple camera setup on the back (25mp wide angle, 8mp ultrawide, 5mp depth sensor) that is capable of some AMAZING photos, day or night. I have yet to take a bad picture with this phone. Even in pitch black darkness I was still able to get crisp clear photos of my black sports car. Video recording is sub-4K but the quality is very good especially given its low price point. Battery life on this phone is amazing, I use my phone all day everyday for work and for home enjoyment and I can go two days without having to charge my phone. It has a 4,000 mAh battery. The processor on this phone is fast but not quite on par with the newer Pixels and iPhones i've tried. It's still quite capable of doing a lot at the same time (Facebook Messenger while playing games, etc) Charging comes via USB type C which allows the phone to go from a low charge to an all-day usable charge in no time at all. I was blown away. All in all I would say for the price, this phone is hard to beat, offering flagship model features and performance at a budget price. If you are like me and appreciate the value in Samsung's new budget phones, you don't have to cut corners anymore. This phone is perfect for the working-class person who wants a Pixel or an iPhone but can't afford to buy one outright/unlocked.
Date published: 2019-11-11
Specifications
SIZE 6.24'' x 2.94'' x 0.30'' inches
STANDBY TIME Standby time up to 13 days
WEIGHT 168g or 5.92 oz
BAND (FREQUENCY) CDMA | 4G LTE
INCLUDED BATTERY Non-removable Li-Po 4000 mAh battery
HEARING AID M3/T3
TALK TIME up to 25 hours
What's in the Box?
Includes Galaxy A50 Phone
Charger
Battery
Activation Card
Services Guide and Quick Start Guide.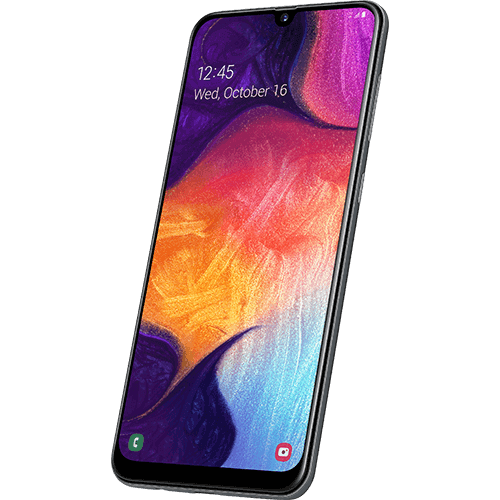 A Service Plan card is required for activation. Plans are not returnable or refundable. Service Plan card is required for activation. Text SAS506DL to 611611 for mobile tutorials.
WARNING: Reproductive Harm - www.P65Warnings.ca.gov
More features
RAM:
Memory - 4GB RAM / 64GB ROM - Expandable up to 512GB
CAMERA:
A camera for any occasion - Capture images in their entirety, shoot vibrant low-light photos, and take flattering selfies.
BATTERY:
Long lasting. Fast charging - Go longer with an all-day battery, and power up quickly with Fast Charging.
DISPLAY:
See more on an expansive screen - Upgrade your view with a brilliant 6.4'' Super AMOLED display. Plus, the large Infinity Display goes edge-to-edge, so you'll never miss anything.
We are sorry but this device is not available currently!
Please add your email and we will notify you when this device can be purchased: SUBMIT
*TETHERING TO ANOTHER DEVICE IS PROHIBITED. OTHER LIMITATIONS APPLY. Please refer to your terms and conditions.