Samsung Galaxy S10+ Prism Black (G975U1)
Samsung Galaxy S10+ Prism Black (G975U1)
is rated out of
5
by
515
.
Availability: Out of Stock
Please select a payment option.
SPEED Wi-Fi 802.11 a/b/g/n/ac/ax (2.4/5GHz), VHT80 MU-MIMO,1024QAM
USAGE TIME up to 39 hours
DISPLAY 6.4'' Full HD+ Dynamic AMOLED Infinity-O Display
STORAGE Internal Memory 128 GB, 8 GB RAM
CAMERA Main Camera Tripel 12 MP, f/1.5-2.4, 26mm (wide) - 10MP UHDSelfie Camera.
DIMENSIONS 157.6 x 74.1 x 7.8 mm
Introducing the Galaxy S10 +. The next generation has arrived.
After 10 years of mobile pioneering firsts, it's time to meet our latest and greatest innovation yet.

Completely redesigned to remove interruptions.

No notch, no distractions. Precise laser cutting and a Dynamic AMOLED screen that's easy on the eyes make the Infinity Display our most innovative yet.

Power is yours to share.

Wireless PowerShare lets you charge Galaxy devices or even a friend's phone right from your device.

Capture the wider world.

Use the Ultra Wide Camera to take stunning, cinematic photos with a full field of vision, just like the human eye.
In the next step, you will have the option to bundle your Phone with one of our no-contract plans.
A Service Plan card is required for activation. Plans are not returnable or refundable. Service Plan card is required for activation. Text SAG975U1 to 611611 for mobile tutorials.
---
Rated

1

out of

5
by
Unimpressed
from
A myriad of small problems
Owned for approximately four months now and it had been a rather terrible experience from the stock samsung messaging app randomly causing the cursor to jump to the beginning of the text while typing, home button becoming non functioning in landscape mode but still able to bring up google assistant and just small issues that make you appreciate when a product just works. specs are rather good but excellent hardware is a paperweight when small bugs constantly ruin the experience. also when using Dex with a samsung dock is more appropriately called a space heater instead of a portable computing alternative which is another disappointment.
Date published: 2020-02-12
Rated

5

out of

5
by
TheRealBW
from
Best to date
I've used mobile phones since they had to be mounted in the card. When they had a shoulder strap. Then brick phones. and a few others on my way to the first smart phones. Even a Palm Pilot smart phone. Today I've kind of settled in on Samsung for quality and advanced features. The S9 series really didn't give me a reason to upgrade, but now I have a new love in my life with the Galaxy S10 Plus 512GB and still room for another 512GB SD card. And yes, I have both. So I now have a phone in my pocket with the best display I've even seen, and even with my 70 year old eyes, I still have great vision (not perfect, but I do wear top of the line glasses when needed).
Date published: 2019-03-26
Rated

5

out of

5
by
Anonymous
from
Beyond what I expected
I have been a fan of Samsung as long as I can remember. each year they meet and go above and beyond what i expect. They always think outside of the box and create beautiful technology. They think way ahead of other companies and build on it year by year. And the Galaxy s10+ is incredible. I love it . it's amazing to watch a video the quality is amazing. the phone speed is amazing. and the camera's oh do not get me started it's just out of this galaxy amazing. I do not have any bad to say about this phone. how can you? yeah, some apps do not work that well on this phone like snapchat but it is not Samsung's fault. snapchat needs to get with the program.
Date published: 2019-04-13
Rated

5

out of

5
by
Tyler B
from
The best piece of tech I've ever owned
Coming from an iPhone 6, to an S7 Edge and then an S8 after cracking said S7 Edge, and having many problems with both phones: The S10+ has been FLAWLESS. I have bought a lot of nice technology, from expensive gaming monitors to the Xbox One X, but I can't think of a single better purchase than this. Battery life is amazing and has not died on me ONCE. Camera quality finally convinced my girlfriend that Samsung takes better pictures than the iPhone. Ultrawide is a favorite feature of mine. Wireless charge share will come in handy and I think the punchout actually compliments the phone, not impeding it.
Date published: 2019-03-28
Rated

5

out of

5
by
Robert
from
Hands down the best phone I've owned so far!
i love this phone. it does everything i need it to and more. picture and video quality are second to none. it plays mobile games with ease. has plenty of storage for all my music and apps and has enough ram to run multiple apps simultaneously. other than some wifi range and bluetooth connectivity issues i've been having recently i can't really find any faults with this device. for being the + version its a bit bulkier than my previous phone but it still fits easily into my pocket and i don't really notice the size difference when walking around or sitting down. overall a great phone.
Date published: 2020-07-23
Rated

2

out of

5
by
Btnmashr
from
Feeble and annoying
This is my work phone so the fact that it is trashed sucks but not my problem. I would never buy this personally as it has zero durability. I miss my active version. And this phone updates constantly. This is the annoying part because every update comes with missing phone numbers and settings for text set differently. These are just examples. Every update I have to fight to get my phone back to workable.
Date published: 2020-09-25
Rated

1

out of

5
by
Jordan S
from
Horribly Disappointed.
I bought this phone a month ago. I have never had such horrible connection issues. I have been a loyal Samsung user for years and have even converted many iPhone users to Samsung. My loyalty is probably over. My phone only connects to Wifi. I leave my house and have no service at all. Music won't load. Maps won't load. I can't even get to google on my internet browser. I have been paying for a phone that DOESN'T WORK and am tired of it. This phone has caused issues for my personal life and work. I literally was almost fired last week because of my phone issues. Please make it right Samsung....
Date published: 2019-04-23
Rated

3

out of

5
by
AndyM0097
from
good and bad!
After recently upgrading from the Galaxy S7, I was so disappointed to discover that there is no longer an LED on the display to advise you of misses/waiting messages, texts or calls. You now have to open the display to see if you have mail, texts or missed calls. To me, this is a huge step backword. What were you thinking, Samsung!? There is a feature that allows you to use the camera lense as a notifier, but it only lights up for a few seconds, then goes off. Hopefully they will do a software update to allow the light to stay on and/or blink, when you have waiting notifications. Other than this notification issue, phone is fast, and has long battery life (at least for now)
Date published: 2019-09-07
Specifications
SIZE 157.6 x 74.1 x 7.8 mm
STANDBY TIME Standby time up to 15 days and 10 hours
WEIGHT Glass Model 157 g | Ceramic Model 198 g
BAND (FREQUENCY) Enhanced 4X4 MIMO, 7CA, LAA, LTE Cat.20, Up to 2.0Gbps Download / Up to 150Mbps Upload
INCLUDED BATTERY Non-removable Li-Ion 4100 mAh Battery
HEARING AID M4/T3
TALK TIME up to 39 hours
What's in the Box?
Device
Data Cable
Travel Adapter
Ejection Pin
USB Connector (OTG)
Earphones sound by AKG
Quick Start Guide
Protective Film.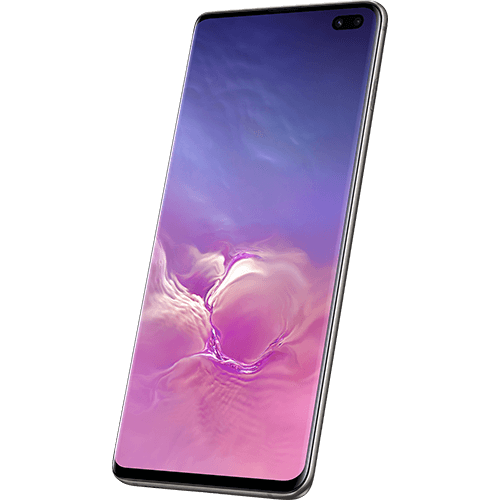 A Service Plan card is required for activation. Plans are not returnable or refundable. Service Plan card is required for activation. Text SAG975U1 to 611611 for mobile tutorials.
More features
OS:
Android 9.0 (Pie); One UI
RAM:
Laptop storage without the laptop - Scalable memory that grows with you. 8GB RAM with 128GB internal storage
CAMERA:
Selfie camera Single - 10 MP, f/1.9, 26mm (wide)
PROCESSOR:
A processor one step ahead so it won't slow you down - Qualcomm® Snapdragon™ 855
DISPLAY:
Dynamic AMOLED capacitive touchscreen, 16M colors
We are sorry but this device is not available currently!
Please add your email and we will notify you when this device can be purchased: SUBMIT
*TETHERING TO ANOTHER DEVICE IS PROHIBITED. OTHER LIMITATIONS APPLY. Please refer to your terms and conditions.