ZTE Wireless Home Phone Base Station
Straight Talk Wireless Home Phone Base Station
is rated out of
5
by
1002
.
USAGE TIME Battery talk time up to 3 hours. Rechargeable battery allows you to make and receive calls in case of a power outage.
DIMENSIONS Dimensions: 1.11" (H) x 6.30" (W) x 5.51" (D)
No-Contract Replacement for your Landline.
Answer your home phone from anywhere with the Z723EL Wireless Home Phone Base Station! Setup is quick and simple, and you can connect your existing landline handsets. It works with your service provider's cellular network and is more affordable than a traditional landline. Get the home phone experience, with the same familiar handsets, at a lower price and in a convenient, portable package. What are you waiting for? The Wireless Home Phone Base Station is ready to go whenever-and wherever-you are!

In the next step, you will have the option to bundle your Phone with one of our no-contract plans.
This phone will only work with the $15.00 Unlimited Plan/ 30 Access Days (Unlimited Nationwide Calling) or $30.00 Unlimited ILD Plan/ 30 Access Days (Unlimited ILD Calling).
---
Rated

5

out of

5
by
Anonymous
from
Great product!
I have been using a straight talk wireless home phone for years. Love it. I bought the new base station because of the technical changes in the network. My phone calls are more clear. My friends and family are not complaining about the call and voice quality now. It was getting pretty garbled up at times..I blamed it on sunspot activity, lol The only thing different, is having to dial a 1 in front of the number I am trying to call. I am very satisfied!!! I would recommend this home phone to others. And I have! Especially in these crazy times we are living in...bills increase, and income does not. Great product, great price!!
Date published: 2020-08-25
Rated

1

out of

5
by
Montana Matt
from
Fail
Bought the new home base station because Straight Talk says our old one won't work with the coming network changes. We have had the same plan for many years. We kept our plan and number. The new equipment will not allow us to make out of state calls now. We get a recording that our plan does not support calling these numbers. (Same numbers of family members we have called weekly on the plan for years.) Customer service took 2 hours on the phone with no resolution yet. They are sending a new SIM card which will take 3-5 days to arrive and I have to call back in when that comes and start all over with the customer service folks.
Date published: 2020-08-25
Rated

4

out of

5
by
Redpinerick
from
Replacement base unit.
I purchased the new base unit because I was told the old one would be obsolete after the first of the year 2021. The first time we tried to make a long distance call it said we didn't subscribe to long distance, to say I was very miffed was a gross understatement. We have had Straight Talk Home for many, many years and never had a problem. After messing around talking to their support staff, which I had difficulty understanding with the accent, she finally told me I'd have to use a "1" before the 7 digit number I'm calling. We've never needed that in past, but it was indeed a very simple fix.
Date published: 2020-09-11
Rated

5

out of

5
by
SpiceMan
from
A MUST HAVE device !
Had to get this unit as a replacement for my previous base station that is being phased out due to technology advances. It had served me well for many years! The new Wireless Base Station works GREAT. I ordered it on-line, in response to an email I had received about the need to upgrade, and received it within about a week. I logged into my Straight Talk account, and there it was, ready to be activated. The transition activation was very easy, and completed without a hitch. This Wireless Base Station does not require a computer. Just plug it into the wall outlet, connect a standard phone to it, activate it, and off you go with full featured nation wide CLEAR AUDIO conversations for $15 (plus tax) per month. And since it works via cell phone signal, you can take it with you whenever you relocate, and not have to change your phone number. This is a REAL MONEY SAVER, when it comes to having a Home Phone ... a MUST HAVE device !!!
Date published: 2020-08-24
Rated

2

out of

5
by
tommy654
from
works but liked my old system better
The new ZTE Base Station works but I liked my old Home Phone Base system better. I had to update supposedly because of some voLTE incompatibility issue. With the new ZTE Wireless Home Phone Base Station on every call you make, even local calls, you have to dial 1 plus the area code before your number or your call won't go through. I called tech support and they knew nothing about this, but after about an hour and three different tech support people they finally said this is just how the new system works. I feel like I was forced to buy an upgrade but actually got a down graded system.
Date published: 2020-11-21
Rated

3

out of

5
by
Anonymous
from
Customer support and review of the new product
I purchased this new box because we were informed that the old one we had would expire and not work. We had to contact customer support twice before we were able to get the new box working correctly. We are disappointed to learn that we are not able to call all the contacts listed in our long distance directory (as it was) without redoing our new directory by inserting a 1 in front of some of the numbers. That is a lot of extra work when the old system worked fine as it was. Isn't it possible to fix this issue without going through our reprogramming? Please respond to me. Thank you for the opportunity to respond to your survey.
Date published: 2020-10-01
Rated

1

out of

5
by
Ashley12
from
STRAIGHT TALK NOT WORTH THE MONEY
I HAD THIS UNIT FOR 6 DAYS NEW RIGHT OUT OF THE BOX WE CANNOT HEAR OTHER CALLERS VOICEMAILS AND WHEN THEY TALK OVER THE PHONE YOU CANT HEAR THEM EITHER AND IT DROPS CALLS AND THE CALLER CANNOT HEAR YOU IT IS A VERY POOR BASE STATION WHEN THIS UNIT IS BRAND NEW AND YOU STILL HAVE PROBLEMS WITH THIS MANY CALLS STRAIGHT NEEDS TO GET THEIR PRODUCT WORKING CORRECTLY BEFORE THEY PUT IT OUT ON THE MARKET TO SELL. DON'T WASTE YOUR MONEY WITH A DISASTER LIKE THIS NOW WE ARE STUCK WITH BASE STATION THAT DOESNT WORK CORRECTLY CALLED CUSTOMER SERVICE AND THEY ARE NOT TRYING TO MAKE A EFFORT TO FIX IT YOU ROUND IN CIRCLES WITH THEM. YOU SHOULD HEAR CALLERS AND HEAR THEM OVER THE PHONE WITH NO PROBLEM.
Date published: 2020-09-01
Rated

1

out of

5
by
JaRM
from
Bad Experience
I have had the Straight Talk landline service for several years. There has never been an issue until the new router was connected about a week ago. Since then, the phone has not worked properly. I am able to make outgoing calls, but the # that appears on recipient's caller id is different from my phone #. If someone tries calling the # that appears on caller id, it goes to voicemail of a different person. I spent numerous hours trying to resolve the problem. Finally, the phone seemed to work but that only lasted for 1 day. Then, the previous situation took over again. I do not recommend.
Date published: 2020-08-28
Specifications
SIZE Dimensions: 1.11" (H) x 6.30" (W) x 5.51" (D)
STANDBY TIME Standby timeup to 13 hours
WEIGHT 13.59 oz.
BAND (FREQUENCY) CDMA
INCLUDED BATTERY Li-ion polymer (2,300 mAh)
HEARING AID N/A
TALK TIME Talk time up to 3 hours.
What's in the Box?
Straight Talk Wireless Home Phone device
Rechargeable battery
AC Adapter
Antenna
Activation Instructions and Services Guide.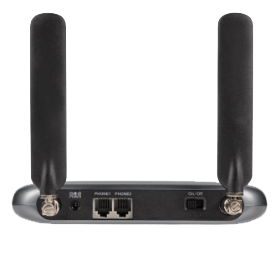 This phone will only work with the $15.00 Unlimited Plan/ 30 Access Days (Unlimited Nationwide Calling) or $30.00 Unlimited ILD Plan/ 30 Access Days (Unlimited ILD Calling).
More features
PREPARE FOR ACTIVATION:
1. Remove Protectors and Assemble Your Device. 2. Install the Antenna Properly. 3. Connect the Device to a Power Supply. 4. Connect a Telephone Device to the Device. 5. Find your Serial Number and Activate your Service. 6. Hear Your Phone Number.
STAY CONNECTED:
Take your Home Phone with you to your new address. Keep your current home phone number (we'll port it foryou at no cost). 24/7 support.
We are sorry but this device is not available currently!
Please add your email and we will notify you when this device can be purchased: SUBMIT
*TETHERING TO ANOTHER DEVICE IS PROHIBITED. OTHER LIMITATIONS APPLY. Please refer to your terms and conditions.