LG Solo
is rated out of
5
by
26
.
SPEED 4G LTE/Wi-Fi®
USAGE TIME Talk time up to 12 Hrs
DISPLAY 5.7'' HD+ FullVision Display
STORAGE 16GB ROM - 2GB RAM
CAMERA 8MP Rear camera / 5AM front camera Wide-Angle
DIMENSIONS 6.02'' (H) x 2.83'' (W) x 0.32'' (D) inches
Live life to the fullest with a smartphone that's made for your world. Quickly capture life in motion. Share every moment with friends and followers. Outlast an eventful day. The LG Solo™ LTE packs premium features and power to boot so you can explore with eyes wide open.

In the next step, you will have the option to bundle your Phone with one of our no-contract plans.
A Service Plan Required for Activation. Plans are not returnable or refundable.
---
Rated

5

out of

5
by
Anonymous
from
Great phone for the price!
There are some pros and cons but the pros outweigh the cons. There is no type c charging. Camera's aren't the greatest. Only 16 GBs storage, 2 GBs ram. But I haven't noticed anything terrible about the phone. Social media works great, all apps are pretty fast. Camera's will take good pics in fair lighting in dark lighting they will get grainy. Call quality sounds good and clear. Speaker isn't the loudest but loud enough to hear YouTube and videos fine. You can add an sd card and move most apps to save storage I haven't had any problem with storage as long as you don't download tons of apps. Overall a good phone I would recommend it. I mean it's 100 dollars you can't expect too much from it but it definitely does the job and then some.
Date published: 2019-08-28
Rated

2

out of

5
by
st37
from
Poor screen reaction
I've had this phone for a week and I can't stand it. I have to dial and type slowly or it doubles the number or letter I press. Even with wifi half the videos on Facebook are just garbled, pixilated sqaures of greens and reds. Signal is awful. The google assist button on the side of the phone is just awkward. Every phone I've had up until this one has let me zoom in and out by using the pinching motion on the screen but this one only let's me do that on certain things. You have to triple tap the screen to enlarge and then pan around and triple tap again to go back to normal, only half the time it doesn't pan around correctly and you can't move around the screen to see everything you need to see. If I could return it I would, but the bottom corners are already scuffed up.
Date published: 2020-06-07
Rated

4

out of

5
by
kevin b
from
good phone
Bought this one on the last day of january..Never had a lg phone ive always used samsung&nokias (when they were popular) so i decided to try this Lg phone&love it..Takes good pix..Lots of space,Great for downloading,Good size, but. 2 things I didnt like is the videos u record dont always come out clear&the google assistant button(im happy u can turn it off) on the left hand side specially when u have chunky fingers is annoying
Date published: 2020-02-12
Rated

2

out of

5
by
dxeheart
from
Not worth the money
I bought this phone over a month ago and it sucks. The battery does not hold a charge for even 8 hours, it is always updating when you are in the middle of something important, and I hate the google assistant. She won't shut up, always asking me stupid questions like "what song is this" and I won't even be listening to a song, and I can't get the phone to dismiss her. You can't completely shut her off, which I would love to. I don't need it. Think really hard about purchasing this phone. There are too many others on the market that are way better.
Date published: 2020-07-18
Rated

4

out of

5
by
hmhawk
from
Great phone
Great phone for the price. Only beef I have is that the audio sucks. If you have hearing trouble don't buy this phone. Never wanted a smart phone but I'm coming around but ain't gonna pay an outrageous price just for volume.
Date published: 2019-10-30
Rated

1

out of

5
by
Anonymoususer123
from
Worse than my first gen Samsung :/
Ive had this phone for about 9 months now. Out of the 16gb of storage 7.5gb are in use from the system. Each update the system takes up more storage. I have a total of six apps 4 of whoch are social media and youtube and the other 2 for business. I have maybe 100 photos. It doesnt allow for many apps so if youre looking for a phone that can allow you to have actual apps for entertainment then this aint it. Terrible camera quality too. Poor storage. I just do think ill ever buy from walmart/straight talk again if I want enough storage space for any personal apps
Date published: 2020-09-21
Rated

4

out of

5
by
Anonymous
from
Awesome Phone!!!
Is a great phone for the most it's just that I've had to delete a lot of apps and such just to get more emails in not sure what the deal is with that but other than that I'm very well pleased!!!
Date published: 2020-05-02
Rated

3

out of

5
by
Anonymous
from
Wouldn't Recommend for 2020
I bought this about 4 months ago. Battery is not good, bad cameras, and the speakers are terrible. Screen freezes all the time and doesnt always reapond good.
Date published: 2020-09-12
Specifications
SIZE 6.02'' (H) x 2.83'' (W) x 0.32'' (D) inches
STANDBY TIME Standby time up to 10 days
WEIGHT 5.11 oz.
BAND (FREQUENCY) Technology: LTE
INCLUDED BATTERY Battery Capacity: 3,000 mAh (Non-Removable)
HEARING AID M3/T3
TALK TIME Talk time up to 12 Hrs
What's in the Box?
Includes Charger
Battery
Activation Card
Services Guide and Quick Start Guide.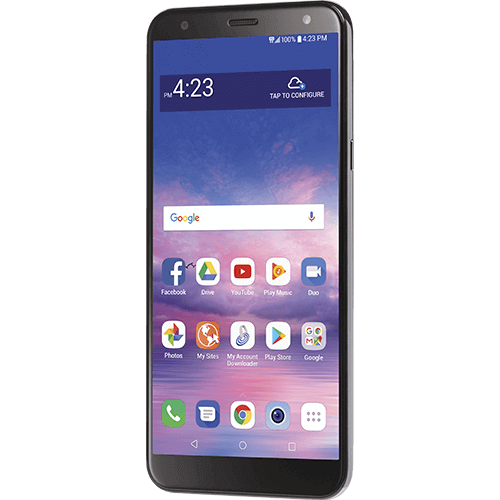 A Service Plan Required for Activation. Plans are not returnable or refundable.
WARNING: Cancer and Reproductive Harm - www.P65Warnings.ca.gov
More features
CAMERA:
5 MP Front and 8 MP Rear Camera. 8 MP Autofocus Rear Camera with Fast Catch. Switch between Rear and Front Camera with a Finger Swipe
BATTERY:
Lithium Ion 3,000 mAh Non-Removable.
DISPLAY:
5.7'' HD+ FullVision Display
We are sorry but this device is not available currently!
Please add your email and we will notify you when this device can be purchased: SUBMIT
*TETHERING TO ANOTHER DEVICE IS PROHIBITED. OTHER LIMITATIONS APPLY. Please refer to your terms and conditions.