moto e5
is rated out of
5
by
22
.
SPEED 4G LTE/Wi-Fi Connectivity
USAGE TIME Talk time up to 32 Hrs
DISPLAY 5.7'' HD+ 18:9 display
STORAGE Internal Memory 2GB RAM + 16GB ROM
CAMERA 8 MP Rear Camera/Video Recorder
DIMENSIONS 6.08'' x 2.84'' x 0.35'' inches
See more. Do more.
The new moto e5 is all about getting more without having to spend more. It starts with a big battery that keeps the fun going all day long. Add our new Max Vision display, and you get an expansive 5.7'' screen - in the compact, durable design you're craving. Don't be afraid to get a little wet thanks to the water-repellent coating. With moto e5, you can do it all. Take bright, clear photos using an 8MP autofocus camera. Unlock your phone with just the touch of your finger. Instruct it easily with intuitive Moto Experiences. moto e5. Demand more.

In the next step, you will have the option to bundle your Phone with one of our no-contract plans.
A Service Plan is required for Activation. Plans are not returnable or refundable.
---
Rated

2

out of

5
by
Anonymous
from
Ok phone
Walmart sells these phones but does not carry any cases for them, and the only way to get them is online. Phone is a delicate flower and the screen will shatter from the slightest drop. Mine shattered from several inches high just from slipping out of my pocket onto the concrete just sitting there. Phone case set to arrive just hours away. Bad luck. Overall, it is an ok phone that will definitely scream BUDGET phone. The processor is somewhat slow, so if you use more than 5 apps at a time, even running in the background, it will begin to lag. Camera was very grainy. Not good at all. Battery life was very good and can last a day in normal routine on a full charge.
Date published: 2019-03-12
Rated

3

out of

5
by
Justin411
from
Good No Frills Smart Phone
I got this phone at the beginning of this year and so far its function is just fine. Battery life, battery usage, program speed, etc. is all decent. The only major problem I've had with the phone is that the power button broke (it's plastic). The only way to install it is from the inside because of the way the tabs lock into the frame. It's irritating because I can't unlock the phone without shaking it to display the screen so I can unlock. I was unable to find a case for it as well after buying two different ones. Turns out it uses the same cases as another Moto phone. Go figure. I wonder if the Moto G6 has a metal power button so that doesn't happen again?
Date published: 2019-04-12
Rated

1

out of

5
by
GregS
from
Thought I got an awesome deal
I loved this phone when I first got it. Going from a Rebel 3 to this was so nice. Huge crisp clean picture, BUT oh was I in for it. 1 day out of the blue it starts freezing and restarting. I hooked it up to all the original equipment and was cleaning it up and getting ready to restart it when it suddenly goes black. NOTHING just NOTHING AT ALL! After a while it would give me a little shake when I held power down for 10-15 sec., But still nothing. It just quit working and to top it off all my passwords and important information on it was gone. Couldn't find anything. I used the app on the phone for back up and that was yet another mistake on my part. Found out that it's not all that rare with these. Wouldn't recommend! You'll most likely lose more than just your money.
Date published: 2019-05-22
Rated

4

out of

5
by
Mousy81
from
Good graphics
I have never bought a phone that does NOT have a photo gallery until this one. The galleries in the play store have too many ads and/or freezes up when you try to share or edit a photo. Also, there isn't very much space for anything. Will probably send it back since I'm still in my 30 day window.
Date published: 2019-01-22
Rated

2

out of

5
by
Johnny96
from
Works but breaks easy
Decent phone if you need something short term. Works but is super slow. Camera is very slow as well and NOT great for video or pictures. I dropped mine from waist level after about a month and it shattered the screen..I have a case in it as well. Breaks easily. Gets the jobs done but definitely not a long term investment.
Date published: 2019-02-04
Rated

5

out of

5
by
Heather me
from
Love this phone
I have been a straight talk customer for about 4 years. I have had many phones but this one is my favorite! Battery life last so long (with battery saver on). Fast running phone. It takes a 64mb memory chip. So I have plenty of space for apps and photos. Camera quality is awesome. Love the front flash for selfies in low light. I totally recommend this phone! Great for anyone.
Date published: 2019-04-28
Rated

5

out of

5
by
Anonymous
from
Great features
I bought this phone a month ago and so far it's been a very good phone. The battery is great. The battery last longer then my old phone. I would recommend this phone is the are on a tight budget. This phone is the best phone that I have ever had.
Date published: 2019-06-17
Rated

1

out of

5
by
Gamber
from
Don't buy
Had it not even 3 months or so and need a replacement. Pictures are , well lets just say don't waste your time taking any
Date published: 2019-03-23
Specifications
SIZE 6.08'' x 2.84'' x 0.35'' inches
STANDBY TIME Standby time up to 10 days
WEIGHT 6.1 oz.
BAND (FREQUENCY) Technology: CDMA/LTE
INCLUDED BATTERY Built-in Battery Lithium-ion 4000 mAh
HEARING AID M3/T3
TALK TIME Talk time up to 32 Hrs
What's in the Box?
Includes Charger
Battery
Activation Card
Services Guide and Quick Start Guide.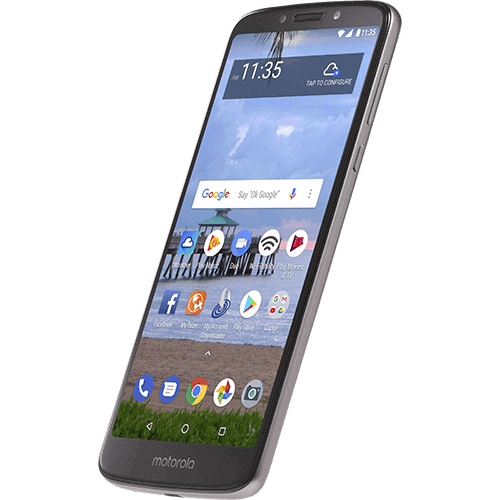 A Service Plan is required for Activation. Plans are not returnable or refundable.
More features
RAM:
2GB RAM + 16GB ROM - Supports up to 128GB microSD card
CAMERA:
8MP camera with autofocus Capture great photos even in low light conditions.
BATTERY:
All-day battery plus rapid charging 4000 mAh battery plus get hours of power in just minutes.
DISPLAY:
Max Vision display 5.7'' display with 18:9 aspect ratio means more screen and less scrolling.
We are sorry but this device is not available currently!
Please add your email and we will notify you when this device can be purchased: SUBMIT
*TETHERING TO ANOTHER DEVICE IS PROHIBITED. OTHER LIMITATIONS APPLY. Please refer to your terms and conditions.