Samsung Galaxy J7 Crown (S767VL)
Samsung Galaxy J7 Crown (S767VL)
is rated out of
5
by
119
.
SPEED 4G LTE/Wi-Fi®
USAGE TIME Talk time up to 24 Hrs
DISPLAY 5.5'' HD TFT Display
STORAGE Internal Memory 16 GB (device only)
CAMERA 13MP main camera - 13MP front-facing camera
DIMENSIONS 6.03'' x 3.00'' x 0.34'' inches
Introducing the Samsung Galaxy J7 Crown (S767VL).
The Samsung Galaxy J7 Crown can enhance your life in so many unexpected ways. It has all the essentials, plus more – all for a great low price. If you're into watching videos or playing games, the large HD display is made for you. For photo fanatics, the 13MP cameras are sure to impress. Music fans love the Samsung Galaxy J7 Crown, too. It comes with 4G LTE/Wi-Fi connectivity for fast streaming and downloading. It's even enabled with Bluetooth, so you can connect your smartphone to headphones or speakers. To personalize your new Samsung Galaxy J7 Crown, start with some accessories, like a phone case or Bluetooth earbuds.
In the next step, you will have the option to bundle your Phone with one of our no-contract plans.
A Service Plan card is required for activation. Plans are not returnable or refundable. Service Plan card is required for activation. Text STSAS767VL to 611611 for mobile tutorials.
---
Rated

4

out of

5
by
Seiji
from
Great phone
I've had this phone only for a couple days, currently running Straight Talk on it. It's a pretty decent phone, and it's got a great camera. My only gripe is that it's constantly updating and it ends up installing things that you didn't even want, by itself. For instance, I started playing pogo games (in the app) on it, and it started installing all kinds of random games assuming I like those/will try them. So I not only had to uninstall those, but after the updates it went through this morning, it also randomly installed Wish and some other stuff, so I had to uninstall those too. That's a bit annoying, but other than that I like the phone a lot. Very fast, seems pretty well designed.
Date published: 2019-05-15
Rated

5

out of

5
by
Radarryder
from
We really like our Samsung J7 Crown phones...
I don't know why this phone is not rated higher than it is. My wife and I both needed new phones, and we really liked the look and feel of the J7 Crown, so we bought 2. So far they have been everything we could want or expect from a good, quality smart/data phone. The processor is fast. The OS is stable. It has a very good battery life. The phone audio quality is very clear. It takes great looking pictures. It streams video with ease. It has a very nice display, and It does not drop calls. I don't know what else to say about this phone except that I have no issues with it, and we plan to buy one more for our daughter. We could pay a lot more, but why would we when this phone does everything we need it to do at a very affordable price point.
Date published: 2019-03-14
Rated

5

out of

5
by
sharevao
from
Great for a lower end Samsung
Love samsung, had the note 8 since it first came out till about 4 months ago. Decided to do prepaid and just get a cheaper phone came to straight talk after doing some research bought this phone. Has great call quality, good camera, doesn't lag and love the themes. All and all an amazing buy. Had an accident with it and Walmart where I live was out of stock on this phone so I bought a motorala g7, didn't even have that phone a week and I went back and bought this one. I recommend this phone to anyone. Just make sure you purchase an sd card as 16gigs of storage dont get you far.
Date published: 2019-08-12
Rated

5

out of

5
by
grape44
from
Another good Samsung!
I purchased this phone a month ago as an upgrade to my previous one. The screen is a large 5.5 inches and the camera is awesome at 13MP. Most important, voice quality is superb. I bought a glass screen protector and a hard case, too. I use the available blue filter. The screen is bright. Perfect device for me. I use it for texts, calls, email, and some web browsing. With my use, I can go two days on a single battery charge.
Date published: 2018-12-29
Rated

5

out of

5
by
EJP1974
from
Excellent Phone
I had an I Phone SE and hated it. I got this phone about a week ago and love it. Sound is extremely clear and I never loose a signal with this phone. It has face recognition that makes its very handy when you in hurry and do not have time to push a code to get on your phone. All the apps runs very smoothly and I have plenty of storage space. I could not ask for a better device.
Date published: 2018-11-30
Rated

5

out of

5
by
Kristy1961
from
Everything is great about this phone.
I got this phone for myself last year as a Christmas present. And I love it. It takes very good pictures and I couldn't tell you exactly how many more apps I have installed than my last phone. A great buy. Now I'm buying one for my daughter . After she saw it, she just had to have one. Lol.
Date published: 2019-01-05
Rated

4

out of

5
by
FrustratedP
from
Galaxy J7 Crown - the improved J7 Sky Pro
I purchased the Galaxy J7 Crown on Black Friday 2018. I bought the J7 Sky Pro on 2017 Black Friday. The Crown upgrades the Android operating system from the Sky Pro's Android 6.0 Marshmallow to the Android 8.0 Oreo. The Crown improves the cameras from the Sky Pro's 5MP front and 8MP rear up to 13MP on both front and rear. The only other improvement on the Crown is that it will read up to a 400GB microSD card over the Sky Pro's 256GB max. The Crown does not have a removable back cover nor a removable battery, as the Sky Pro does. Both phones come with a 3300MA battery that has fantastic battery life. After a year of regular use, I can still go two+ days without having to recharge the Sky Pro and the Crown seems to do just as well with battery life. The flash has been moved from alongside the rear camera to below it. Other than these differences, the phones are almost identical. Both phones come with 2GB RAM and 16GB internal memory. If you want more RAM or internal memory on a Samsung you will need to pay hundreds more. I bought both phones for over 50% off on Black Friday Deal sales. I have never had any problems with the Sky Pro or with Straight Talk service or reception. After a year, the Sky Pro is still a great phone and still works great and still has great battery life, but I wanted to upgrade the Android to 8.0 Oreo and the megapixel improvement on the cameras is a nice bonus. If you can get the deal that I got on the Crown, it is well worth it. I love my J7 Sky Pro and the J7 Crown is pretty much the new improved version. I highly recommend getting the J7 Crown.
Date published: 2019-01-06
Rated

3

out of

5
by
Jeffro10
from
Very average
PROS: Had it for a month in a half now. Camera is ok, has some filters to play with. Storage is nice All the LG phones around this price are horrible and break, this has been sturdy easy to uninstall Apps CONS: I seem to never get 4G, never fully connects where my cheap LG phone did connect better Comes with 2 messenger services and it gets confusing. if you use the other one, it asks you if you want to set it as your main. They look very similar so if you accidently choose the other, it then asks you if you want to use it as your main. It gets VERY ANNOYING! I chose one, and then it did not work. So I had to figure out which one was the one I liked and I deleted the other.
Date published: 2019-07-03
Specifications
SIZE 6.03'' x 3.00'' x 0.34'' inches
STANDBY TIME Standby time up to 27 days
WEIGHT 6.38 oz
BAND (FREQUENCY) Technology: 4G LTE
INCLUDED BATTERY Battery Li-Ion 3,300 mAh
HEARING AID M3/T3
TALK TIME Talk time up to 24 Hrs
What's in the Box?
Charger
Battery
Activation Card
Services Guide and Quick Start Guide.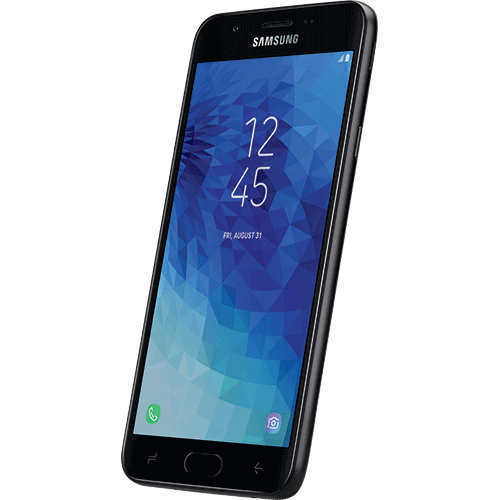 A Service Plan card is required for activation. Plans are not returnable or refundable. Service Plan card is required for activation. Text STSAS767VL to 611611 for mobile tutorials.
More features
Android™ 8.0 Oreo™ OS:
Samsung uses the Android™ 8.0 Oreo™ operating system to make phones smarter, safer, and faster.
16GB ROM storage:
16GB is a lot of storage for photos, videos, apps, and games. But you can actually increase the storage capacity up to 400GB if needed with the use of a microSD™ card (not included).
13MP cameras:
The selfie camera is just as powerful as the rear camera. After you snap each photo, enhance them with fun stickers and filters before sharing them with friends and family. Both cameras work well in low-light settings, too, for great shots day or night.
1.56GHz octa-core processor:
Games and videos tend to drain the battery life on cell phones. But this octa-core processor helps prevent that, so you can use your phone for longer.
5.5-inch HD display:
The Samsung Galaxy J7 Crown offers endless entertainment. Whatever you're watching or playing, the large HD display makes the moment even better.
We are sorry but this device is not available currently!
Please add your email and we will notify you when this device can be purchased: SUBMIT
*TETHERING TO ANOTHER DEVICE IS PROHIBITED. OTHER LIMITATIONS APPLY. Please refer to your terms and conditions.